Orange County Slate Roofing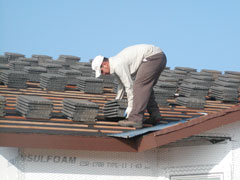 Shulman Roofing Inc. provides a variety of roofing products for residential and commercial application. If you are looking for a timeless, classic, natural look for your roof, consider our Orange County slate roofing products.
Slate roofing, while often heavy like traditional clay and cement tile roofing, provides homeowners and businesses with a beautiful roofing option. Our Orange County slate roofing shingles are highly durable and lightweight, offering a long-lasting roofing system for both residential and commercial buildings. Some slate roofs have been known to last for hundreds of years. This gorgeous roofing type has not usually been a cost effective solution for many homeowners or businesses; but with our affordable Orange County slate roofing products, you can enjoy the beauty of a natural slate roof without breaking the bank.
At Shulman Roofing Inc. we are experts at installing and repairing slate roofs. Contact our Orange County slate roofing specialists today to learn more about the various slate and tile roofing shingles we carry. Call today and we will provide you with a free estimate for the cost of your slate roofing project.
Services Our Orange County Slate Roofing Contractors Offer:
Slate Roofing
Slate Shingles
Roofing
Slate Roof Tiles
Tile Roofing
Slate Tiles
Roofing Shingles
Slate Roofs
Roof Installation
Roof Repairs
Roof Tiles
Roofing Systems
Why Orange County Should Hire Us For Their Slate Roofing
Shulman Roofing Inc. is a professional Orange County roofing contractor with years of experience taking care of the slate roofing needs of homeowners and businesses in Southern California. Our goal is to make sure you have a positive experience with our company, whether you are looking for roofing shingles or slate tiles. Our team of roofers and customer service professionals are prompt and courteous specialists that make every effort to complete your roofing project quickly and efficiently with as little inconvenience as possible to your home or business. At Shulman Roofing Inc. we offer:
Over 25 Years of Experience in the Roofing Industry
Free Estimates for the Cost of Your Slate Roof
Quality Slate Roofing Products & Installations
A 5 Year Written Installation & Workmanship Warranty in addition to the 10 to 50 year warranty that may already come with your slate roofing shingles
24 Hours Accessibility via Pagers & Radio Dispatching - so you can always check on the the progress of your slate roofing project
If you have a slate roofing installation project, contact the licensed, bonded and insured Orange County roofing contractor you can trust for quality results: call Shulman Roofing Inc. today for all your slate roofing needs in Southern California.
See What Orange County Clients Are Saying About Our Slate Roofing
"Shulman Roofing has been installing Eaglelite roofs on homes throughout Southern California since 1990. We are aware of their fine reputation for quality workmanship and customer service whether working with slate roofing or roofing shingles." Read More

- Lane Carroll, Sales Manager, Eagle Roofing Products, Huntington Beach, CA | Rated: 3 / 3
---
Recent Articles about Slate Roofing
Hiring a Huntington Beach Roofing Contractor - There are about as many roofers to choose from as there are doctors in the Huntington Beach area, and you should take the same care in choosing your roofing contractor as you would your doctor. While it's clear that you are going to want a Huntington Beach roofing contractor that employees capable installers ... (Read More)
What Every Homeowner Should Know about Huntington Beach Roof Inspections - If you are planning to sell your house, then you should see to it that you go through the necessary process that will not only help you assess the value of your property but also allow you to see to it that you will be able to sell it at full price. There are different things that you have to do in order to ensure that your buyer will not experience any kind of problem with the property. One of them involves a roof inspection that will allow you to ensure that ... (Read More)
If you are looking for an Orange County slate roofing contractor then please call (714) 799-7157 or complete our online request form.