Orange County Roofing Shingles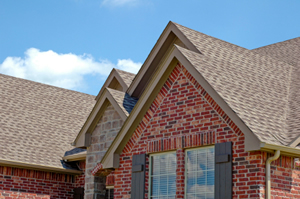 Shulman Roofing Inc. is a GAF authorized residential roofing installer and we carry a variety of quality roofing shingles from GAF that are certain to meet your needs as well as your budget. Our GAF roofing shingles are top quality roofing products perfect for new residential roofing projects as well as roof replacements.
The most popular roofing shingle we carry is the GAF Three-Tab (3-Tab) asphalt shingle that offers basic protection at an affordable price. We also carry Timerline Lifetime asphalt shingles which add architectural beauty to any home. There is also the Designer Choice Lifetime Shingles that are beautiful, stylish, and offer durable, long lasting protection while making your home the envy of the neighborhood.
All of the roofing shingles we supply from GAF come in a variety of beautiful colors so that you are certain to find an option that matches your style and design plans for your home. GAF shingles also come with manufacturer warranties to extend the life of your Orange County roofing shingles.
Whether you are looking for energy efficient and impact resistant roofing shingles that will last a lifetime or an economical selection for a re-roofing project, the GAF shingles we carry at Shulman Roofing, Inc. are sure to meet your needs. Contact our Orange County roofing shingles experts today to learn more about the GAF roofing products and asphalt shingles we have available for your roofing project.
Services Our Orange County Roofing Shingles Contractors Offer:
Asphalt Shingles
Roofing Shingles
GAF Roofing
GAF Shingles
Shingles
Roof Shingles
Roofing Tiles
Metal Roofing Shingles
Roofing
Metal Shingles
Roof Shingle Installation
Roof Installation
Why Orange County Should Hire Us For Their Roofing Shingles
At Shulman Roofing Inc. we offer quality asphalt shingles from GAF, a leading manufacturer of roofing products for both residential and commercial application. We also provide our clients with reassurance. We install all of our roofing products per manufacturer specifications and include a 5 year written installation and workmanship warranty in addition to the 10 to 50 year warranty that may already come with the roofing shingles you select for your project.
With over 25 years of experience installing roofing shingles in California, Shulman Roofing Inc. is the Orange County roofing contractor homeowners and business trust to get the job done right. We are state licensed, bonded and insured, and our company has an AAA rating with the Better Business Bureau. You can rest assured that Shulman Roofing Inc. is the Orange County roofing contractor you can rely on for all your roofing needs. If you are in the market for GAF roofing shingles, contact us today and we will provide you with a FREE estimate for your project.
See What Orange County Clients Are Saying About Our Roofing Shingles
"I heartily recommend Shulman Roofing Inc. with confidence that they will perform with superior results for whom ever is fortunate to use their services for roofing shingles." Read More

- Paul McKelvey, President, McKelvey Construction, Newport Beach, CA | Rated: 3 / 3
---
Recent Articles about Roofing Shingles
Huntington Beach Roofing Shingles: Why should you Consider Using Asphalt Shingles for Your Roof? - Using Huntington Beach roofing shingles as a means of protecting your home is proven to be really beneficial. The following are just few of the many benefits from choosing asphalt and using it as the main material for your roofing system ... (Read More)
Hiring a Huntington Beach Roofing Contractor - There are about as many roofers to choose from as there are doctors in the Huntington Beach area, and you should take the same care in choosing your roofing contractor as you would your doctor. While it's clear that you are going to want a Huntington Beach roofing contractor that employees capable installers ... (Read More)
If you are looking for an Orange County roof materials contractor then please call (714) 799-7157 or complete our online request form.