Sealoflex for Flat Roofs in Orange County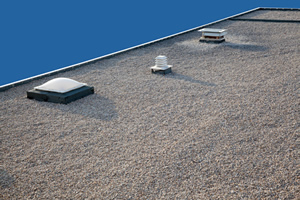 Shulman Roofing Inc. provides a variety of roofing products and solutions for flat roofs in Orange County and the surrounding areas. One of the many problems we find that our clients face with their flat roofing systems is moisture breaking through the membrane of their flat roofing products. Our solutions is the innovative Sealoflex® flat roofing products.
Sealoflex® is a flat roofing product that provides a tough, durable, long lasting waterproofing solution for flat roofs in Orange County and the surrounding areas. This flat roofing product creates a seamless membrane that repels moisture, ensuring your roof does not experience the typical problems with water that flat roofs in California encounter. It is also resistant to chemical and environmental challenges, providing a dependable roofing solution for any residential or commercial flat roof.
Sealoflex® also provides green roofing solutions for flat roofs. Contact our Orange County roofing contractors today to learn more about this innovative product and our flat roofing services.
Services Our Orange County Roofing Contractors Offer for Flat Roofs:
Flat Roofing
Roof Coatings
Flat Roofs
Flat Roof Repair
Sealoflex
Roofing Products
Roofing System
Rubber Roofing
Flat Roof
Roof Installation
Roof Repair
Roof Replacement
Why Orange County Should Hire Us For Their Flat Roofs
The flat roof experts at Shulman Roofing Inc. install our flat roofing systems per manufacturer specifications for long lasting durability and quality results. When you choose Shulman Roofing Inc. for your flat roofs, we will also provide you with a 5 year written installation and workmanship warranty in addition to the 10 to 50 year warranty that may already come with the flat roofing product selected for your project.
As a professional Orange County roofing contractor with over 25 years of experience in the roofing industry, Shulman Roofing Inc. takes pride the work we do, and we strive to provide the best in quality and service to our residential and commercial customers, whether they are looking for commercial grade flat roofing and rubber roofing solutions or simple home roof repair services. Shulman Roofing Inc. is a state licensed, insured and bonded Orange County roofing contractor as well as a BBB accredited business with an AAA rating. Call us today to receive a free estimate for the cost of your roofing project.
See What Orange County Clients Are Saying About Our Flat Roofing
"I would highly recommend Shulman Roofing for sincere consideration for any project involving flat roofs in Southern California. You can rest assured your project will be completed professionally and with a high degree of competence when you choose this Huntington Beach roofing contractor." Read More

- Richard Charters, Credit Manager, A.L.L. Roofing Materials of Long Beach, Inc., Long Beach, CA | Rated: 3 / 3
---
Recent Articles about Flat Roofs
Hiring a Huntington Beach Roofing Contractor - There are about as many roofers to choose from as there are doctors in the Huntington Beach area, and you should take the same care in choosing your roofing contractor as you would your doctor. While it's clear that you are going to want a Huntington Beach roofing contractor that employees capable installers ... (Read More)
Huntington Beach Flat Roofing: The TPO Roof As An Efficient Alternative For Every Roofing Needs - Synthesized rubber, asphalt and vinyl are few of the most commonly used roof construction materials. But one of the most innovative and practical types of flat roofing used by Huntington Beach roofing contractors is TPO roofs ... (Read More)
If you are looking for an Orange County flat roofs then please call (714) 799-7157 or complete our online request form.