Orange County Roofing Materials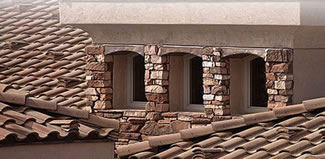 At Shulman Roofing Inc. we use a variety of roofing products to naturally fit your type of home or business. From fiberglass dimensional roofing shingles to U.S. clay tile and all types of concrete tile roofing to slate roofing, our Orange County roofing materials are some of the highest quality available on the market. We also install a wide variety of metal roofing products, and we will match the right type of roofing material to your home or business all while making your property look great.
Not all Orange County roofing materials are the same type. Many factors determine the type of roofing material you might need, and these factors include: budget, climate, age of the home, and the lifetime of the new roof. Our Orange County roofing experts will guide you through the selection process, however, and ensure that you get the right roofing materials for your new roof.
Some of the many roofing materials Shulman Roofing Inc. carries and installs include products from Decra, GAF, Auburn Tile Inc. Concrete Roofing Tile, Eagle Roofing Products, Monier Lifetile, Owens Corning, and US Tile Authentic Clay Roofing Tiles. Call today to learn more about the roofing materials we have available.
Services Our Orange County Roofing Materials Contractors Offer:
Roofing Materials
Metal Roofing
Tile Roofing
Slate Roofing
Wood Shakes
Roofing Tiles
Roofing Shingles
Clay Tile Roofing
Roofing
Shingles
Roof Installation
Roof Replacement
Why Orange County Should Hire Us For Their Roofing Materials
At Shulman Roofing Inc. we offer quality products and reliable services to all of our customers. With over 25 years of experience in the roofing industry, we are the Orange County roofing contractor homeowners and business can trust to get the job done right.
We also provide our clients with reassurance. All of our roofing systems are installed per manufacturer specifications to ensure the highest quality and longest lasting results. Our roof systems are also backed with a 5 year written installation and workmanship warranty. This warranty is offered in addition to the 10 to 50 year warranty that may come with the roofing materials selected for your project. As a professionally licensed, bonded and insured roofing company with an AAA rating with the Better Business Bureau, you can rest assured that Shulman Roofing Inc. is the Orange County roofing contractor you can rely on for all your roofing needs. Contact us today for a free estimate on the cost of the roofing materials needed for your project.
See What Orange County Clients Are Saying About Our Roofing Materials
"Shulman Roofing Inc. has been our preferred Roofing Contractor since 2006. We enlisted Shulman Roofing originally for a high profile client that required no glitches or concerns with the roofing materials. They came highly recommended. They preformed flawlessly then and have continued a very professional approach to their trade today. That is why we continue to use their roofing services. Over the years it is refreshing to work with a true professional contractor that delivers what they promise, when they promise." Read More

- Paul McKelvey, President, McKelvey Construction, Newport Beach, CA | Rated: 3 / 3
---
Recent Articles about Roofing Materials
The Proven Benefits of Huntington Beach Metal Roofs - If you are planning to renovate or build a home, then you should carefully think about the roofing material that you should use because this can have a major impact on the overall appearance of your property and in increasing its level of security.  It should also be noted that Huntington Beach metal roofs are among your best choices because of its ability to let you enjoy a lot of remarkable benefits including the following ... (Read More)
Huntington Beach Roofing Shingles: Why should you Consider Using Asphalt Shingles for Your Roof? - Using Huntington Beach roofing shingles as a means of protecting your home is proven to be really beneficial. The following are just few of the many benefits from choosing asphalt and using it as the main material for your roofing system ... (Read More)
If you are looking for an Orange County roof materials contractor then please call (714) 799-7157 or complete our online request form.