Orange County Roof Replacement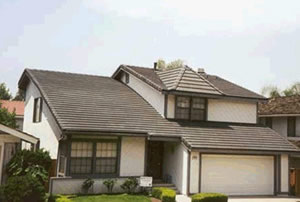 The process of a complete Orange County roof replacement in some ways is more challenging than installing roofing systems on new construction. Every building and every roof is different, each with their own challenges to overcome. This is why the expert Orange County roofing contractors at Shulman Roofing Inc. should be the first call for your roof replacement needs. Our skilled crews have worked on every type of roof system and truly understand how they are built and how they are supposed to work.
We are constantly complimented on the thoroughness, cleanliness and speed of our tear-off crew. Most roofs are completely cleaned off in a couple of hours, enabling the roof installation crew to begin installing the new plywood, felt, or roofing quickly and efficiently. Contact us today to learn more about the process our Orange County roof replacement experts go through, or to schedule an appointment for service.
Services Our Orange County Roof Replacement Contractors Offer:
Roof Replacement
Roof Installation
Re-Roof
Roofing
Commercial Roofing
Metal Roofing
Roofing Shingles
Tile Roofing
Replacement Roofing
New Roof
Metal Roof
Roof Repair
Why Orange County Should Hire Us For Their Roof Replacement
From complete re-roofs to roof repairs, Shulman Roofing Inc. is the Orange County roofing contractor residential and commercial clients throughout Southern California trust for top quality results. We have over 25 years of experience in the roofing industry, and always strive to provide our customers with the highest quality roofing materials and installation services. The quality of our workmanship is evident in our AAA rating with the Better Business Bureau as well as the thousands of customers we have satisfied over the years.
All of our roof replacement systems are installed per manufacturer specifications to ensure your new roof installation is done correctly and to the highest standard for long lasting results. We also back all our roof systems with a 5 year written installation and workmanship warranty in addition to the 10 to 50 year warranty that may come with your product. To learn more about our roofing products and roof replacement service, please contact our Orange County roof replacement specialists at (714) 799-7157 today.
See What Orange County Clients Are Saying About Our Roof Replacement Service
"Thank you for the professional roof replacement job you and your crew provided for us. Our new roof looks great." Read More

- Peggy N. of D&P Classic Chevy, Huntington Beach, CA | Rated: 3 / 3
---
Recent Articles about Roof Replacement
Why Clay is Better for Huntington Beach Tile Roofing - Using clay for Huntington Beach tile roofing is a popular choice because they are attractive and strong; in fact, they could last for decades. Both homebuilders and homeowners love adding clay tiles to roofs. Clay tiles are also cost efficient since they require less maintenance compared to other materials ... (Read More)
Huntington Beach Roofing Shingles: Why should you Consider Using Asphalt Shingles for Your Roof? - Using Huntington Beach roofing shingles as a means of protecting your home is proven to be really beneficial. The following are just few of the many benefits from choosing asphalt and using it as the main material for your roofing system ... (Read More)
If you are looking for an Orange County roof replacement contractor then please call (714) 799-7157 or complete our online request form.