Orange County Roof Installation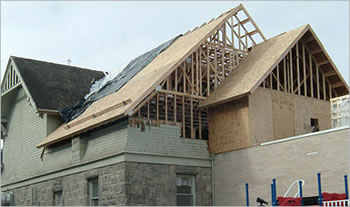 At Shulman Roofing Inc. we provide roof installation service for both residential and commercial clients. Our roofing materials for new roofs include top quality GAF roofing shingles, slate roofing, clay tile roofing, cedar wood shakes and metal roofing.
Selecting the right roof for your new building or home is one of the biggest decisions you'll make. The roof protects everything under it, keeps heating and cooling costs down, and keeps your valuable assets safe from the elements. With the latest state of the art technology and the most experienced roof installation crews in the area, you won't have to worry about your roofing system when you choose Shulman Roofing Inc. Our professional Orange County roof installation experts are highly experienced, courteous and efficient, and our roofing materials are of the highest quality. Ensure your new roof is installed correctly, on time and on budget: call the Orange County roof installation experts at Shulman Roofing Inc. today.
Services Our Orange County Roof Installation Contractors Offer:
Roof Installation
Roofing
New Construction
Roof Construction
Roofing Materials
Commercial Roofing
New Roof
Wood Shakes
Metal Roofing
Clay Tile Roofing
Roofing Shingles
Slate Roofing
Why Orange County Should Hire Us For Their Roof Installation
Shulman Roofing Inc. is the Orange County roofing contractor homeowners and businesses throughout Southern California trust for quality new construction roof installations. All of our roof systems for new constructions are installed per manufacturer specifications to ensure the highest quality and longest lasting results for our residential and commercial roofing clients. All of our roof systems are also backed with a 5 year written roof installation and workmanship warranty. (This warranty is offered in addition to the 10 to 50 year warranty that may come with the roofing product selected for your new roof installation project.)
Our Orange County roof installation company has over 25 years of experience in the roofing industry. We are a Better Business Bureau accredited roofing company with an AAA rating, testament to our high standards and quality products. We have satisfied the roofing installation need of thousands of clients in Orange County, CA and the surrounding areas. To learn more about our roof installation process or our various roofing materials, please contact our Orange County roofing contractor specialists today.
See What Orange County Clients Are Saying About Our Roof Installation Service
"Contacting Shulman Roofing was a pleasurable experience. The roof installation was completed on time and met all my expectations. The roofers were professional, and every person I spoke with was very courteous throughout the entire roofing process." Read More

- Tom Butler Huntington Beach, CA | Rated: 3 / 3
---
Recent Articles about Roof Installation
Hiring a Huntington Beach Roofing Contractor - There are about as many roofers to choose from as there are doctors in the Huntington Beach area, and you should take the same care in choosing your roofing contractor as you would your doctor. While it's clear that you are going to want a Huntington Beach roofing contractor that employees capable installers ... (Read More)
Huntington Beach Roofing Shingles: Why should you Consider Using Asphalt Shingles for Your Roof? - Using Huntington Beach roofing shingles as a means of protecting your home is proven to be really beneficial. The following are just few of the many benefits from choosing asphalt and using it as the main material for your roofing system ... (Read More)
If you are looking for an Orange County roof installation contractor then please call (714) 799-7157 or complete our online request form.