Orange County Roof Inspections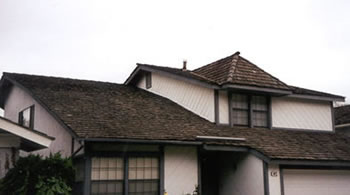 At Shulman Roofing Inc. our trained and certified Orange County roof inspection technicians can analyze core compositions, determine inadequate or adequate drainage, and evaluate flashing heights and the life span of existing roof materials. Whether it is for future budgeting, annual inspection, roof replacement costs or repairs, Shulman Roofing Inc. can provide any type of roof analysis our customer wants.
There is a great need in the real-estate community to be able to receive quickly and accurately roof inspection reports. With over 25 years of experience behind us, Shulman Roofing professionals have the knowledge of every type of material on the market. We can quickly determine the age of a roof, serviceability, life expectancy and other possible problems (if any) that should be addressed in a good roof inspection report.
We know the need you or your clients have in receiving the report from our Orange County roof inspection technicians quickly and accurately. If the roof in question needs attention or replacing, our company can in most cases get on the job within the escrow period or move in time.
Concentrating on the needs of the real-estate market is a challenge our Orange County roof inspection contractors are ready for. Please contact us for more information on our roof inspection services or to receive a free estimate for the cost of your project.
Services Our Orange County Roof Inspection Contractors Provide:
Roof Inspection
Commercial Roofing
Roof Installation
Roof Replacement
Roof Maintenance
Home Inspection
Roof Shingles
Roofing
Roof Repair
Building Inspection
Roofing System
Roof Inspectors
Why Orange County Should Hire Us For Their Roof Inspection
For reliable roof inspections in Southern California, homeowners and businesses turn to Shulman Roofing time and time again. Part of the reason is because we have years of experience in the roofing industry and offer our customers reliable service. When you choose Shulman Roofing Inc. for your roofing needs, you can expect to benefit from:
Over 25 Years of Experience in both Residential & Commercial Roofing
High Standards & Quality Roofing Products
Professional, Courteous Roofers
Better Business Bureau AAA Rating
FREE Estimates
Shulman Roofing Inc. is the Orange County roofing contractor you can trust to get the job done correctly, on time and within budget. Get your roof inspection and analysis when you need it - call Shulman Roofing today.
See What Orange County Clients Are Saying About Our Roof Inspection Service
"I appreciated how Shulman Roofing's roof inspection crew kept me informed about the work as it progressed and provided a detailed report at the end of the inspection. I was also happy with how quickly they were able to complete job." Read More

- Bud Schmidtbauer Huntington Beach, CA | Rated: 3 / 3
---
Recent Articles about Roof Inspections
What Every Homeowner Should Know about Huntington Beach Roof Inspections - If you are planning to sell your house, then you should see to it that you go through the necessary process that will not only help you assess the value of your property but also allow you to see to it that you will be able to sell it at full price. There are different things that you have to do in order to ensure that your buyer will not experience any kind of problem with the property. One of them involves a roof inspection that will allow you to ensure that ... (Read More)
The Importance of Getting Huntington Beach Roof Repairs Immediately - If you experience problems with your roof, it is crucial to get immediate roof repairs from a qualified Huntington Beach roofing contractor. You can do the job yourself, but if you don't have the skills and the expertise, never try it. Not only could you worsen the problem with your roof, you could also ... (Read More)
If you are looking for an Orange County roof inspection contractor then please call (714) 799-7157 or complete our online request form.