Orange County 5-V Metal Panels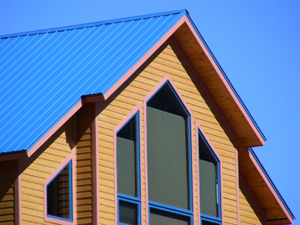 Of the metal roofing products we carry at Shulman Roofing Inc., our 5-V metal panels remain one of the more economical options. This type of metal roofing is one of the oldest types of metal roofing systems, providing homeowners and commercial properties with a traditional metal roof.
Our 5-V metal panels for roofing systems are composed of very strong sheet metal with a unique "crimping" effect that increases durability and the longevity of the roof. Galvanized steel roofing is also available.
At Shulman Roofing Inc. our metal roofing products come in a variety colors and styles. Contact our roofing specialists today to learn more about our Orange County metal panels for roofs and to get a FREE estimate for the cost of your new metal roof.
Services Our Orange County Metal Panel Contractors Offer:
Metal Panels
Metal Roofing
Steel Roofing
Roof Installation
Metal Roofs
Steel Roofs
5-V Metal Roofing
Panel Roof
Roof Repairs
Roofing Systems
Roofing Materials
Roofing Products
Why Orange County Should Hire Us For Their Metal Panels
At Shulman Roofing Inc. our goal is to make sure you have a positive experience with our roofing company whether you are looking for a budget friendly metal roofing solution for your home or a strong, long-lasting steel roofing product for your commercial building. Our team of prompt, courteous, and professional roofing specialists make every effort to complete your new metal roof installation quickly and efficiently with as little inconvenience as possible to you and your home or business.
At Shulman Roofing we offer:
Over 25 Years of Experience in the Roofing Industry
Free Estimates for the Cost of Your Metal Roof
Quality Metal Roofing Products & Metal Roof Installations
A 5 Year Written Installation & Workmanship Warranty in addition to the 10 to 50 year warranty that may already come with your metal roofing products
24 Hours Accessibility via Pagers & Radio Dispatching - so you can always check on the the progress of your metal roofing project
At Shulman Roofing Inc. we offer quality roofing materials and products for metal roofs in Southern California. We are a trusted California roofing company with an AAA rating with the BBB, and we have been providing roofing services for both residential and commercial property owners for over 25 years. If you have a metal or steel roof installation project, contact the licensed, bonded and insured Orange County roofing contractor you can trust for quality results: call Shulman Roofing Inc.
See What Orange County Clients Are Saying About Our 5-V Metal Panels
"Whether large projects or neighborhood re-roofs, Shulman Roofing has compiled a long list of satisfied customers." Read More

- Lane Carroll, Sales Manager, Eagle Roofing Products, Huntington Beach, CA | Rated: 3 / 3
---
Recent Articles about Metal Panels
The Proven Benefits of Huntington Beach Metal Roofs - If you are planning to renovate or build a home, then you should carefully think about the roofing material that you should use because this can have a major impact on the overall appearance of your property and in increasing its level of security.  It should also be noted that Huntington Beach metal roofs are among your best choices because of its ability to let you enjoy a lot of remarkable benefits including the following ... (Read More)
Hiring a Huntington Beach Roofing Contractor - There are about as many roofers to choose from as there are doctors in the Huntington Beach area, and you should take the same care in choosing your roofing contractor as you would your doctor. While it's clear that you are going to want a Huntington Beach roofing contractor that employees capable installers ... (Read More)
If you are looking for an Orange County metal panels then please call (714) 799-7157 or complete our online request form.