Is Your Roofing Developing a Leak?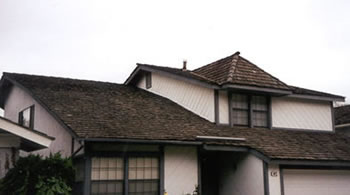 A leak is one of the most serious problems that your roofing can have, and leaks might even be a sign that it's time to have your roofing replaced. It's important to identify the signs of a leak as soon as possible in order to have them repaired before they cause more damage to your home. However, it can be difficult for the average to recognize the signs of a developing roof leak before it's too late.
Early intervention of roof leaks can be the difference between needing minor repairs and needing to have your roof replaced. At Shulman Roofing, our professional Orange County roofing contractors offer roof inspections to help homeowners identify problems with their roofing as early on as possible. We can provide you with high quality roofing repairs and replacements.
Keep an eye out for these signs that your roofing is developing a leak, and contact our professionals as soon as possible if you notice them:
Shingle Damage
If any of your roof's shingles are missing or torn, they can expose the roof to water damage and, in turn, rot. Missing or damaged shingles will also make the other shingles more susceptible to damage and more easily blown away by wind. Older shingles also tend to curl and split, which can cause them to lose their waterproofing effectiveness with age.
If any of your Huntington Beach home's shingles are missing, damaged, or old, contact our roofers to have your roofing inspected and any damage repaired.
Rusted or Missing Flashing
The term "flashing" refers to thin pieces of impervious material that are installed to prevent water from passing into the structure of a roof at any joints or connective points of the roofing. If your flashing is rusted or is missing, it can cause a leak in your roof. If you take care of the problem quickly enough, it can be repaired simply; otherwise, you may need to have your flashing replaced.
Damage to Other Parts of Your Home
You should check your Huntington Beach home's gutters, downspouts, and splash pans for any evidence of decay or damage. You may find scraps of roofing or broken pieces of paint. This damage can be caused by a roof leak and should prompt you to call a professional roofing contractor for an inspection and repairs.
Signs Inside Your Home
Signs of a roofing leak to look out for inside your home include:
Discolored plasterboard
Cracked paint
Peeling wallpaper
Brown spots on your ceiling
If you've noticed these problems, call our Orange County roofers and we'll find and repair any leaks in your roofing.
If you're looking for roof repairs in Orange County, call Shulman Roofing at 714-799-7157, or fill out our online request form.