Choosing the Right Material for Your New Roof Installation in Orange County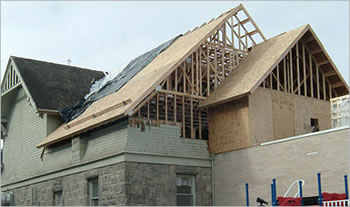 If you are building a new Orange County home, you have probably had to make a lot of decisions. From deciding what layout will suit your needs to choosing cabinets, fixtures, flooring materials, and more, you have customized your new house every step of the way. One of the most important decisions you will make, however, is on the outside of your home. You have to choose what kind of roof to install on your new home. Your roof affects your home's appearance, helps determine your home's energy efficiency, and protects everything inside your home from the elements, so choosing it is not a decision to make lightly. In order to help you choose what material you want to use for your roof installation, it is best to know a little bit about some of the most popular roofing choices. For more information, contact the experts at Shulman Roofing. Inc. to speak with an Orange County roofing contractor today!
Asphalt Shingles
Affordable and reliable, asphalt roofing shingles are the most popular choice for roof installation in Orange County. Asphalt shingles are the most budget-friendly option for roof installation. However, not all asphalt shingles are created equally. Some varieties boast added energy efficiency while others are designed to add curb appeal. Whatever you're looking for in an asphalt roof, the qualified experts at Shulman Roofing, Inc. will be sure to help you pick the best roof for your needs.
Metal Roofing
Metal roofing is becoming increasingly popular option for new roof installation in Orange County. Metal roofs, while pricier than asphalt shingles, can offer long-lasting protection and eye-catching curb appeal. Metal roofs come in a number of different styles and materials, but they are all known for their relative maintenance-free and long-lasting quality. Many metal roofs also have the added benefit of reflecting sunlight away from your home, helping to keep the interior cool even on hot summer days. In Orange County, standing seam metal roofs are among the most popular variety for new roof installations. Standing seam metal roofs are highly durable and their unique texture helps to create a distinctive look for your home. Whether you are interested in standing seam, copper, or 5-V metal panels, a metal roof installation completed by the professionals at Shulman Roofing, Inc. would be a great investment for your new Orange County home.
Slate Roofing
Made of natural stone, slate roofing is an attractive option that will add curb appeal to your home. Given it's long term popularity, slate roofing creates a classic look that is sure to impress your neighbors and loved ones. Plus, slate roofing is known to be extremely durable and long-lasting. When properly installed, slate roofs are known to easily withstand many decades of use. Slate roofs are even fire resistant, which can offer great peace of mind when wild fires are blazing. On the other hand, slate roofing has been known to be on the higher end of the the price range for typical roofing products. However, if you contact the Orange County roofing contractor professionals at Shulman Roofing, Inc. to discuss slate roofing options, you may just find that there is a slate roofing option that fits your tastes and your budget.
Cedar Shakes
Cedar shingles are beautiful and natural, adding classic appeal to any new roof installation. Additionally, cedar shakes are durable and can be resistant to rot and bugs. If you think cedar shingles could complement the style of your home, contact your local Orange County roofing contractor for more details.
Tile Roofing
Clay or concrete roofing tiles are attractive, environmentally friendly, and durable. They make a great choice for adding interest and texture to your Southern California roof. At Shulman Roofing, Inc., we carry Boral roofing products, which are designed to remove smog from the air while they protect and enhance your home. Boral clay or concrete tiles are a great choice for any roof installation in the Orange County area.
Flat Roofing
If your building is designed to have flat roofing, then it has unique roofing needs. Luckily, Shulman Roofing, Inc. offers several great options for flat roofing. Between Sealoflex, Hydro-Stop, Thermoplastic Polyolefin, and EPDM roofing, there are plenty of great, secure options to choose from for your installing your flat roof!
If you are searching for an Orange County roofing contractor to help with your new roof installation, look no further than Shulman Roofing, Inc. We offer a wide variety of beautiful and durable roofing options for your new home or building, so contact us today to get started on designing your beautiful new roof!
If you have questions or need an Orange County Roofing Contractor, call Shulman Roofing for expert service at (714) 799-7157 or complete our online request form.