Torrance Roofer and Roofing Company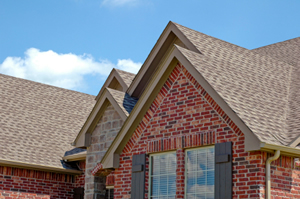 There are time when you roof just need a quick patch and times when it needs to be completely redone. In most these situations, knowing how to proceed can be overwhelming and mind boggling. That's where a helping hand from a professional can help.
Let us determine the extent of the damage for you. Whether its:
Leaks and Moisture
Leaks can lead to mildew, rot, and a host of other problems. Leaks can be caused from a variety of sources, including old sealing, a loose nail, wind damage, storm damage, missing shingles and more.
Whatever the case leaking roofs are trouble for your home and for you and need to be dealt with immediately

Blow-Off, Wind Uplift
IF your roof was improperly installed, below code, or sometimes just getting old, these dangerous occurrences may happen. As wind creates lift on your roof applying pressure in the wrong direction, structural failure ultimately arises leading to failure of your homes roof.

Lack of Maintenance


Weather can reek havoc on your roof and without regular inspections and maintenance, unseen damage can cause a myriad of issues. From minor annoyances to full on failure, lack of maintenance can and does lead to roofing problems.

Water Ponding
also known as Water Pooling, occurs when water run off is insufficiently or incorrectly routed, causing pools of water to gather in groups on your roof. The longer these pools sit the more likely of seepage, and leak damage to occur. Always check lines and runoff points for clogs or congestion to help prevent water ponding on your roof.

These are just a few of the many things that can cause permanent damage to your home's roof, make sure to contact a licensed and professional Torrance Roof Company to complete any work or inspections of your home.
At Shulman Roofing Inc. we provide roof installation service for both residential and commercial clients. Our roofing materials for new roofs include top quality GAF roofing shingles, slate roofing, clay tile roofing, cedar wood shakes and metal roofing.
Some of the Professional Services we provide are:
Roof Installation – New roofs installed with a variety of styles and roof types including

Metal Roofs
Slate Roofs
Clay Roofs
Cedar and Wood Roofs
GAF roofing Shingles

New Construction – Having your home built, tell your builder you want us to complete the roofing job
Commercial Roofing

Warehouses
Factory
Retail Outlet
and more

Repairs – We can handle repairs on a variety of roof types and structures, let us determine if we can fix it or if we can replace it for you.
Torrance Roof Repairs:
Selecting the right roof for your home or building is one of the biggest decisions you can make. The roof protects everything under it, keeps heating and cooling costs down, and keeps your valuable assets safe from the elements. With the latest state of the art technology and the most experienced roof installation crews in the area, you won't have to worry about your roofing system when you choose Shulman Roofing Inc. Our professional Torrance Beach roof installation experts are highly experienced, courteous and efficient, and our roofing materials are of the highest quality. Make sure your roof is installed correctly the first time, so you don't have to stress what can or may happen.
Torrance Roof Inspection
We can handle repairs on a variety of roof types and structures, let us determine if we can fix it or if we can replace it for you. Our proffesional roof inspectors can provide a quick and accurate estimate.
Torrance Roof Types
Torrance has a number of different roofing styles and types. As a professional roofer it is important for us to understand both aesthetically and structurally how these roofs differ.
Mansard Roof - a roof made up of four slopes, two on each side of the home. The lower the slope is at a steeper angle the upper slope. This style allows for additional living or storage space on the upper levels of the home.
Saltbox – An asymmetrical long pitched roof with one short side and one long side. Sometimes these homes are one story on one side of the home and two story on the other.
Pyramid Roof – Pretty much as it says, these roof have four side the at come up to central single point like a pyramid. The slope can vary depending on region and is typically used on smaller buildings or portions of buildings.
Hip Roof – Almost identical to the pyramid roof but rather than meet in at a point the four sides meet a ridge or flat spot on the top.
Bonnet Roof – Again similar to the pyramid roof or hip roof, except that two of the sides with slop out at a different angle. This is usually done to cover a patio or create and overhang.
Flat Roof – As it says, flat. It is worth noting that with flat roofs generally more maintenance is required due to gathering debris. On a plus standing on it isn't awkward!
Cross Gabled – This is your traditional triangle gable roof. When cross matched however the gables can have a very unique style and feel.
Arched roof – Another self explanation, The roof will have a flowing curve arched, these are generally only done to for architectural aesthetics and usually only on small portions of buildings or homes.
Skillion – this is a single slope roof, reminiscent to a lean to, it will look like a right triangle. Typically found on more modern homes to give them a very sleek and modern design feel.
What Torrance Homeowners Are Saying
"Thank you. Our new roof looks great." Read More

- Peggy N. at D&P Classic Chevy, Torrance, CA | Rated: 3 / 3
---
If you are looking for a professional Torrance roofing contractor then please call (714) 799-7157 or complete our online request form.