Are You Looking For a Sunset Beach Roofing Contractor Today?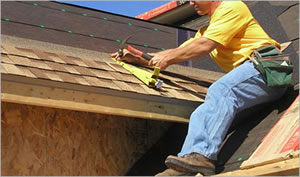 If you are looking for a professional Sunset Beach roofing contractor you can rely on for competent service and quality results, you have come to the right place. At Shulman Roofing Inc. we are that roofing contractor. We have over 25 years of experience in the roofing industry, and our staff is highly trained at providing roofing services for both residential and commercial application.
Some of our roofing services include roof inspections, roof maintenance, roof installation, roof replacement and re-roofs, metal roofing, tile roofing, roofing shingles, and roof repairs in Sunset Beach. So if you are in need of a new roof or some other type of roofing services, please give our expert Sunset Beach roofing contractor company a call today at (877) 828-7663.
Shulman Roofing Inc. - Sunset Beach Roofer
Shulman Roofing is a trained and certified Sunset Beach roofer. Our professionals not only expertly and efficiently install roofing products, but our Sunset Beach roofing contractors also excel in roof repairs and roof inspections.
With our roof maintenance programs, our Sunset Beach roofers will protect your investment by identifying the obvious and hidden dangers that threaten your roofing system's performance and integrity. How well a roof performs over time depends not only to the quality of roof installation but also how well the roof is maintained.
Contact your Sunset Beach roofer at Shulman Roofing Inc. today to learn more about our many roofing services and to schedule a roofing inspection or roofing maintenance session today.
Sunset Beach Roof Repairs
With the vast experience the roofers at Shulman Roofing Inc. have with both residential and commercial roofing systems, you can rest assured that our team will locate and repair your roofing problems quickly and professionally. From simple Sunset Beach roof repairs to complex restoration due to storm damages, Shulman Roofing Inc. is the Sunset Beach roof repair expert you can trust to get the job done with precision and ease.
From roof leaks to dry rot and termites, our Sunset Beach roof repairs crew has seen it all. We will make sure your roof is in top notch condition, notifying you of any additional problems we noticed and the estimate for a cost to repair said issues so that you know the price up-front. In addition to Sunset Beach roof repairs, we also perform other types of general carpentry such as siding, fascia board, decking, and more. Give us a call today to learn more about the repair work we can do for your roofing system.
Sunset Beach Roofing Contractor
Sunset Beach Roofer
Sunset Beach Roof Repairs
Sunset Beach Roofing
Sunset Beach Metal Roofing
Sunset Beach Tile Roofing
Sunset Beach Roofing Shingles
Sunset Beach Roof Installation
Sunset Beach Roof Replacement
Sunset Beach Roof Repair
Sunset Beach Roof Inspection
Sunset Beach Roofing
Sunset Beach Roof Installation
When you are choosing a professional Sunset Beach roofing contractor, many will gladly provide you with a list of references if they believe that their work speaks for itself. You should look for references that are a few years old, so that you can assess how durable the Sunset Beach roof installation is. It can also be important to find a Sunset Beach roofer that is the right fit for you. Choosing someone that you aren't comfortable with can lead to problems. Conversely, be selective and choose someone with excellent references, a proven track record and expertise. If you hear significant or consistent negative things about a contractor from references don't ignore them. While everyone seems nice at first, go with the facts you hear and see that seem legitimate.
While you should be cautious of Sunset Beach roof installation contractors who do not provide references, some companies may just be starting out. If references are not provided, you can check with the Better Business Bureau to see if any complaints have been filed against the contractor. You should also make sure that the Sunset Beach roof installation contractor is insured (worker's compensation policy as well as liability coverage), as you may otherwise be liable for any injuries that workers incur at your home.
You may also want to discuss a good workmanship warranty with the Sunset Beach roofing contractor as a safeguard against any faults with the construction or installation of the new roofing. When you begin to discuss your project, be sure that you receive a written estimate, including a listing of the materials that will be used and the manufacturers' warranties. The estimate should include not only the cost of materials, but also the costs associated with preparing the roof (either to remove the old roof or prepare for laying over the existing roof), as well as the costs of permits and clean up.
Finally, if your Sunset Beach roof installation project requires a real specialist find some one that has done similar type of work.
See What Sunset Beach Homeowners Are Saying About Us
"Shulman Roofing Inc. has been our preferred Sunset Beach Roofing Contractor since 2006." Read More

- Paul McKelvey, President, McKelvey Construction, Sunset Beach, CA | Rated: 3 / 3
---
If you are looking for a professional Sunset Beach roofing contractor then please call (714) 799-7157 or complete our online request form.