Welcome to Shulman Roofing Inc.: A Portola Hills Roofing Contractor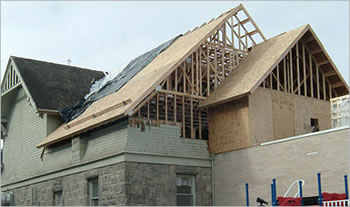 At Shulman Roofing Inc., we specialize in taking care of the roofing needs of homeowners and commercial property owners in Portola Hills, CA. Re-roofs and roof repairs are our forte, and as a state licensed roofing contractor we have experience working with a variety of roofing systems for projects including single-family homes, condominiums, apartments, commercial and industrial properties.
As a professional Portola Hills roofing contractor, Shulman Roofing Inc. is the name you can count on for your roofing needs. Roof removals, plywood installation, general carpentry, composition shingles, clay and concrete tile, metal roofing products, and modified bitumen (torch-down) are some of the roofing products and services we offer, many of which we are certified by the manufacturer to install.
We base our professionalism on the principles of honesty, integrity, quality workmanship, and customer service. We are dedicated to excellence and high standards in the roofing industry as shown by our AAA rating with the Better Business Bureau. Shulman Roofing Inc. is licensed by the Contractors State License Board, C-39 Roofing #870331. In addition we carry a $1,000,000 general liability policy. All our employees are fully covered by workers' compensation insurance.
To learn more about our Portola Hills roofing contractor company, please give us a call today at (877) 828-7663.
Shulman Roofing Inc. - Portola Hills Roofer
Shulman Roofing Inc. is the Portola Hills roofer that homeowners and businesses in Portola Hills rely on for competent crews, reliable service and quality results. We have over 25 years of experience serving as a professional Portola Hills roofer, and our staff is highly trained in both residential and commercial roof installation, repairs and maintenance services.
When you choose us as your Portola Hills roofer, you can rest assured that we will take care of all your roofing system needs. From roof inspections and roof maintenance to new roof installation, roof replacement and re-roofs, our Portola Hills roofers offer nothing but the best. We also carry a variety of roofing products such as metal roofing, tile roofing, roofing shingles, cedar wood shakes, slate roofing and more.
Need roofing services in Portola Hills? Call the Portola Hills roofer you can trust: Call Shulman Roofing Inc. today!
Portola Hills Roof Repairs
With our vast experience in different commercial and residential roof systems, you can rest assured that our roofers will locate the source of the problem and provide you with reliable Portola Hills roof repairs on the spot. Whether you need a one-time roof repair or the security of an ongoing preventative maintenance program, trust Shulman Roofing Inc. to get the job done right.
Sometimes Portola Hills roof repairs are not enough when the damage to a roof or the structure of a home is too extensive. Occasionally there are cases where it is more economical and safer for your property if a complete roof replacement is made. Every building and every roof is different, each with their own challenges to overcome. This is why the experts at Shulman Roofing Inc. should be the first call for your Portola Hills roof replacement needs. Our skilled crews have worked on every type of roof system and truly understand how they are built and how they are supposed to work.
Portola Hills Roofing Contractor
Portola Hills Roofer
Portola Hills Roof Repairs
Portola Hills Roofing
Portola Hills Metal Roofing
Portola Hills Tile Roofing
Portola Hills Roofing Shingles
Portola Hills Roof Installation
Portola Hills Roof Replacement
Portola Hills Roof Repair
Portola Hills Roof Inspection
Portola Hills Roofing
Portola Hills Roof Installation
Following these instructions carefully will help you prepare for your new roof when you choose Shulman Roofing for your Portola Hills roof installation needs.
Engineering Report and Bracing: Approximately one to two weeks before the starting date of your Portola Hills roof installation project, we will contact you in order to set up an appointment with our framing inspector who will need to inspect the framing of your house. To do this the inspector will need access to all attic spaces in order to carefully examine the existing framing. This information will be used by the engineers to insure the structural integrity of your home. We will contact you when we receive the official engineering report and tell you if there will be any additional costs for bracing. At that time we will finalize your exact starting date.
Clearing of Vehicles: Please move all cars, boats, campers, trailers, etc. out from the garage and out of the driveway from 7:00 AM to 5:00 PM Monday through Saturday until the roof is finished.
Dust, Dirt and Debris: Please cover all valuables which are in your attic and garage. During the tear-off part of the Portola Hills roof installation process, these areas may be exposed to dust and falling shingles. If there are rooms in your home that have open beam "tongue & groove" cathedral ceilings with no drywall or acoustical ceilings, you will need to cover all furniture, carpets, and valuables in those rooms. Dust and dirt may find its way through the cracks of the "tongue & groove" boards. (Standard acoustical ceilings or plaster ceilings adequately protect the interior of your home and no additional protection is needed.)
Vibrations: Please remove or secure any lose items which are hanging on walls or stored in cabinets. Such objects can be jarred or shaken loose by vibrations resulting from hammering, loading materials, etc.
Access: Please leave the side door to the garage and the side gate to the backyard unlocked so we can clean up after the tear-off is finished. If you have pets in your backyard, please leave a note with any special instructions or precautions to be taken by our Portola Hills roofing contractor crews (especially in the case of dogs that may bite).
Outdoor Power: If no outdoor power is available, please make arrangements with our crews to provide access to a power outlet.
We will make every effort to complete your Portola Hills roofing installation job quickly and efficiently with as little inconvenience as possible. We are accessible 24 hours a day via pagers and radio dispatching. Feel free to call our office at any time to ask questions about the progress of our work or concerns about your Portola Hills roofing project. We will be happy to answer your questions and to address your concerns.
Our goal is to make this a positive experience by providing a team of prompt, courteous, and professional people to serve your roofing needs. If you have any additional questions or concerns regarding your Portola Hills roof installation project please call us at 877-828-ROOF (877-828-7663).
See What Portola Hills Homeowners Are Saying About Us
"Contacting Shulman Roofing was a pleasurable experience. The roof installation was completed on time and met all my expectations. The roofers were professional, and every person I spoke with was very courteous throughout the entire roofing process. I would recommend this Huntington Beach roofing contractor to anyone looking for roofing services." Read More

- Tom Butler, Portola Hills, CA | Rated: 3 / 3
---
If you are looking for a professional Portola Hills roofing contractor then please call (714) 799-7157 or complete our online request form.