Your Newport Beach Roofing Roof Repair & Roofing Contractor Specialist For Experienced Service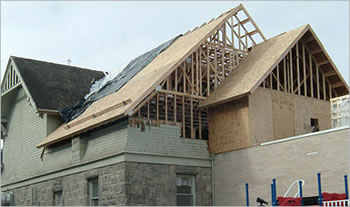 Do you need to commit to the right way of maintaining a roof? At Shulman Roofing Inc., we are those experts in roof repairs, roof maintenance, roof replacement, and roof installation in Newport Beach, CA that can make it all happen. Licensed and insured roofing contractor works with a variety of roofs from for family homes and condos or apartments to industrial buildings and more.
We build our professionalism in the principles of truth, strength, quality, and customer service. We are devoted to excellent performance and customer satisfaction as a Newport Beach roofing contractor. We strive to be your first choice when it comes to professional quality in your roofing type.
Shulman Roofing Inc. - Newport Beach Roof Inspection
We only offer the best in roof inspections and roof maintenance to new roof installation and roof replacement and re-roofs at Shulman Roofing. We provide a diversified selection of roofing items form metal roofing, tile roofing to roofing shingles, cedar wood shake and slate roofing and more. After your intensive Newport Beach roof inspection, you will have a piece of mind that all your roofing structure concerns will dealt with every way of full-service completion.
Newport Beach roof inspection is at length, a very precise service giving your the proper diagnosis of what is causing damage to your roof. With over 25 years of experience in home and office roof installation and repairs, our Newport Beach roofer has the know-how for specific detection and research of your roofing needs. Exceedingly trained in both roof installation, repairs and maintence of homes and businesses, you are well taken care of.
.
Newport Beach Roof Repairs
Newport Beach roof repairs are needed in many types of damages that occur with wear-and-tear aging, harmful weather, and termite infestations. Different commercial and residential roof system matters can also require a roof replacement depending on their severity. These reasons alone are why our experts at Shulman Roofing Inc. should rescue your your Newport Beach roof to bring in back like new.
For a singular roof repair or continuing roof maintence service, hire Shulman Roofing Inc. to conclude the job to its fullest strength. We also believe in achieving safety and practicality for your home and business if a roof replacement is what is truly needed. Our team of Newport Beach roof repair specialists have worked on any roofing system you can think of and fully apprehend how each system works.
Newport Beach Roofing Contractor
Newport Beach Roofer
Newport Beach Roof Repairs
Newport Beach Roofing
Newport Beach Metal Roofing
Newport Beach Tile Roofing
Newport Beach Roofing Shingles
Newport Beach Roof Installation
Newport Beach Roof Replacement
Newport Beach Roof Repair
Newport Beach Roof Inspection
Newport Beach Roofing
Newport Beach Roof Replacement
Pagers and radio dispatching are two contact methods of our Newport Beach roof replacement heroes 24 hours a day. Your roof replacement services could be a result of how old your roof is, any missing shingles, wall issues, or extreme weather. Call our office at any time to ask any questions or concerns about your Newport Beach roofing project.
Enthusiasm and positivity in customer service is what we feel should be our consistent vibe for homeowners and business owners. A positive experience leads to the right solutions, and we are here to provide that kind of experience to complete the project correctly. Call our experts of Newport Beach roof inspection if you're going to decide whether you should repair or replace your roof.
See What Newport Beach Homeowners Are Saying About Us
"Contacting Shulman Roofing was a pleasurable experience. The roof installation was completed on time and met all my expectations. The roofers were professional, and every person I spoke with was very courteous throughout the entire roofing process. I would recommend this Huntington Beach roofing contractor to anyone looking for roofing services." Read More

- Tom Butler, Newport Beach, CA | Rated: 3 / 3
---
If you are looking for a professional Newport Beach roofing contractor then please call (714) 799-7157 or complete our online request form.