Irvine Roofing Contractor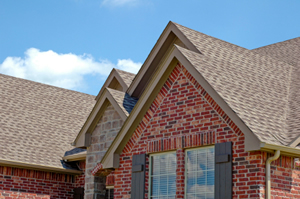 At Shulman Roofing Inc., we are your top choice for a roofing contractor. We carry a variety of beautiful roofing products and provide roofing services for both residential and commercial application.
Why Should You Choose Shulman Roofing Inc. as Your Irvine Roofing Contractor?
We Have Over 25 Years of Roofing Experience
We Provide Free Estimates
We Offer Quality Roofing Products & Services
We Provide a 5 Year Written Installation & Workmanship Warranty - this warranty is in addition to the 10 to 50 year warranty that may already come with the roofing products you choose
We are Available 24 Hours a Day via Pagers & Radio Dispatching, so you can always check on the the progress of your roofing project
We Keep You Informed
We Have an AAA Rating with the Better Business Bureau
We Are Licensed, Insured & Bonded
For a professional Irvine roofing contractor you can trust to get the job done correctly, efficiently and with quality workmanship, contact Shulman Roofing Inc. at (714) 799-7157 today.
Shulman Roofing Inc. - Irvine Roofer
Shulman Roofing Inc. is the Irvine roofer that homeowners and businesses in Irvine rely on for competent crews, reliable service and quality results. We have over 25 years of experience serving as a professional Irvine roofer, and our staff is highly trained in both residential and commercial roof installation, repairs and maintenance services.
When you choose us as your Irvine roofer, you can rest assured that we will take care of all your roofing system needs. From roof inspections and roof maintenance to new roof installation, roof replacement and re-roofs, our Irvine roofers offer nothing but the best. We also carry a variety of roofing products such as metal roofing, tile roofing, roofing shingles, cedar wood shakes, slate roofing and more.
Need roofing services in Irvine? Call the Irvine roofer you can trust: Call Shulman Roofing Inc. today!
Irvine Roof Repairs
Irvine roof repairs are a conscious decision, and as much as some other roofers might try and convince you otherwise, a roof replacement is a troublesome procedure. At Shulman Roofing Inc. we will provide you with an honest evaluate of the current condition of your roof and make any necessary repairs to improve the quality of your roof.
Sometimes, however, it is necessary to replace part or all of a roof due to extensive or long-term damages. Irvine roof repairs are often not enough when the roof in question is in danger of giving way or water leakage is heavy. Think before giving consent, but if the situation so demands, do not hesitate to get your roof replaced.
To avoid costly roof replacements, make sure to invest in Irvine roof repairs when needed. Repair is necessary, and late repair will cost more to the house, your pocket and the overall look of your home. The key is invest in routine roof inspections and roof maintenance to keep check of the slightest changes in the roofing structure. Shulman Roofing Inc. can help you with your roofing decisions, regardless if its repairs or a replacement.
Irvine Roofing Contractor
Irvine Roofer
Irvine Roof Repairs
Irvine Roofing
Irvine Metal Roofing
Irvine Tile Roofing
Irvine Roofing Shingles
Irvine Roof Installation
Irvine Roof Replacement
Irvine Roof Repair
Irvine Roof Inspection
Irvine Roofing
Irvine Roof Replacement
Getting Irvine roof replacement service is a major step and a huge impact to any budget. If you are due for a re-roof, make sure you know the Irvine roofing contractor you are going to hire to complete the job. For Irvine roof replacement projects, you need to hire a skilled, competent and efficient roofing contractor that can ensure the job is finished quickly as well as correctly. The installation of a roof is a key factor in its long-term structural integrity. So don't just choose the lowest bidder. Do your research and find the Irvine roofer that is right for your project.
What you should know before hiring a Irvine Roofing Contractor for a Roof Replacement:
Plan your Irvine roof replacement project carefully. Shop around before hiring a roofer.
Don't be pressured into signing a contract on the spot 

Get at least three written bids for the cost of your Irvine roof replacement project 

Check with your state contractors license board to see if Irvine roofing contractor is properly licensed. (For California call 1-800-321-CSLB) 

Look at work the contractor has completed for other clients 

Ask for at least ten references 

Assume nothing. Be sure everything you and your Irvine roofing contractor have agreed to, is in writing and is in your contract 

Ask your contractor about any inconveniences that may occur and plan accordingly 

Keep a job file 

Make sure you receive lien releases from subcontractors and suppliers 

Make final inspection of work, including a final walk through. 

Only hire licensed contractors 

Never let your payments get ahead of the contractors completed work 

Find a contractor who has been in business for at least five years. Generally, that can be verified with licensing information 

Verify insurance such as workman's comp. 

Verify at least $1,000,000 in Property Liability Insurance
At Shulman Roofing Inc. we want you to have a positive experience with our company. For more advice on hiring a roofing contractor for your Irvine roofing needs, please feel free to give us a call. We look forward to earning your business and adding you to our long list of satisfied customers.
See What Irvine Homeowners Are Saying About Us
"Thank you. Our new roof looks great." Read More

- Peggy N. at D&P Classic Chevy, Irvine, CA | Rated: 3 / 3
---
If you are looking for a professional Irvine roofing contractor then please call (714) 799-7157 or complete our online request form.