First Choice For You Is Shulman Roofing Inc.: Your Huntington Beach Roof Repair & Roofing Contractor Specialist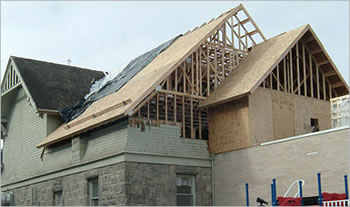 Welcome. You have found the right spot to choose a Huntington Beach roofing specialist, Shulman Roofing Inc. Handling all of your roofing needs of both homeowners and business owners in Huntington Beach, CA, you will always feel a high sense of trust and devotion with our roofing work. Our roofing contractor has the top skill and experience to work on a great variety of diverse projects for every type of residential and commercial re-roofs, roof repairs, new roofs, roof replacement including roof inspections.
We are a professional Huntington Beach roofing contractor that will understand and take over any issues with your individual roofing system. As a licensed and certified roofing contractor, we offer the latest roofing services and products that we will advise in selecting the correct package. From removing roofs, shingle tasks, general carpentry, tile roofing, metal roofing products, and more, there is nothing we cannot take care of for your fullest customer satisfaction.
Shulman Roofing Inc. - Huntington Beach Roof Inspection
Are you experiencing frustration with determining what type of roofing system or materials are the best, budget-friendly selections for your needs? Are you just not sure at all? Count on our roofing specialists who performs sufficiently and extensively detailed Huntington Beach roof inspections.
Our Huntington Beach roof inspection professionals have availability to a wide range of roofing products for all types of roofing systems to fit all types of interests. Cost-effective durability of types of roofing choices with a vast array of roofing shingle selections. We can help you find the product of excellence for your home or business within your budget.
Huntington Beach Roof Repairs
Our Huntington roof repairs team has a lengthy background of fixing roofs. We possess the experience of roofing shingles, tile roofing, flat roofing, metal roofing, and many other types of roofing systems and products. If you need the right techniques of complete roof repairs in Huntington Beach, conctact our experts at Shulman Roofing Inc. today to discuss closely and schedule your roofing repair issues.
Sometimes Huntington Beach roof repairs are not enough when the damage to a roof or the structure of a home is too extensive. Of course, there are situations where it is economical and safer for your property for a roof replacement to be accomplished. The experts at Shulman Roofing Inc. should be the roofing contractor to contact for your own unique Huntington Beach roof repair solutions. Our skilled roofers understand every type of roofing problem that comes our way.
Huntington Beach Roofing Contractor
Huntington Beach Roofer
Huntington Beach Roof Repairs
Huntington Beach Roofing
Huntington Beach Metal Roofing
Huntington Beach Tile Roofing
Huntington Beach Roofing Shingles
Huntington Beach Roof Installation
Huntington Beach Roof Replacement
Huntington Beach Roof Repair
Huntington Beach Roof Inspection
Huntington Beach Roofing
Huntington Beach Roof Replacement
We will take you through a full preparation of the roof replacement at Shulman Roofing to ensemble your Huntington Beach roof replacement needs. We will make every step of the project to complete your Huntington Beach roofing replacement job rapidly with pure efficiency. We are available 24 hours a day through paging and radio dispatching.
Feel free to call our office at any time to ask questions about the progress of our work or concerns about your Huntington Beach roofing project. We will be enthusiastic to answer your questions and to address your roofing problems. If you have any concerns regarding your Huntington Beach roof replacement project contact us at 877-828-ROOF (877-828-7663).
See What Huntington Beach Homeowners Are Saying About Us
"Contacting Shulman Roofing was a pleasurable experience. The roof installation was completed on time and met all my expectations. The roofers were professional, and every person I spoke with was very courteous throughout the entire roofing process. I would recommend this Huntington Beach roofing contractor to anyone looking for roofing services." Read More

- Tom Butler, Huntington Beach, CA | Rated: 3 / 3
---
If you are looking for a professional Huntington Beach roofing contractor then please call (714) 799-7157 or complete our online request form.