Superior Work Of Shulman Roofing Inc.: Your Fountain Valley Roof Repair & Roofing Contractor Specialist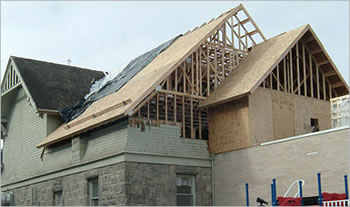 The question is: What type of roofing solution can we not perform? Our specialties at Shulman Roofing Inc., include all types of roofing services, products, and materials in Fountain Valley, CA. Re-roofs or roof replacements, new roof installation, and roof repairs are handled by our state licensed roofing contractor team with precision and effcienty. Your style is our style during the entire project through a very detailed consultation using our knowledge and experience. We are your Fountain Valley Roofing Contractors.
Carrying integrity and quality craftsmanship with consistent customer service, we are devoted to your superior roofing system with the standard portrayed in our AAA rating with the Better Business Bureau. Shulman Roofing Inc. is licensed by the Contractors State License Board, C-39 Roofing #870331, prepared to overtake your roofing damages and provide the best results with competitive pricing. While choosing a roofing system with performance and reliability, the roofing installation has to be just as trustworthy.
Shulman Roofing Inc. - Fountain Valley Roof Inspection
Choose us as your Fountain Valley roof inspection and you will see all of your roof's functionality perform in all ways correctly. Whether you need roof inspections and maintenance to new roof installation replacement and re-roofs, our Fountain Valley can grasp the problem with pristine care and attention. We assure you that your one-time roof repair or ongoing preventative maintenance program is done the Shuman Roofing way at every step.
Twenty-five years of experience serving as an expert Fountain Valley inspection our team is profoundly trained in both residential and commercial roofing solutions. Shulman Roofing Inc. is the type of Fountain Valley roof inspection specialists that only provides homeowners and businesses in Fountain Valley with all the structural satisfaction results. We only carry the best range of roofing products such as metal roofing, tile roofing, roofing shingles, slate roofing and more in the market.
Fountain Valley Roof Repairs
With our immeasurable skills experience in various commercial and residential roof systems, you got a strikingly reliable Fountain Valley roof repairs of ideal techniques. You will find at certain times Fountain Valley roof repairs can turn into a roof replacement issue due to severe weather disasters as well as prolonging the damage.The roofing systems that we proudly support have been chosen because of their high standards of excellence.
Our impressive roofers have experience with every type of roof system and from start to finish, understands how they are built and should be built. Every customer is different and their property is different, so we plan to offer top communication to your specific needs. Our professionals at Shulman Roofing Inc. can help you overcome your Fountain Valley roof replacement frustrations with skillful and admirable work.
Fountain Valley Roofing Contractor
Fountain Valley Roofer
Fountain Valley Roof Repairs
Fountain Valley Roofing
Fountain Valley Metal Roofing
Fountain Valley Tile Roofing
Fountain Valley Roofing Shingles
Fountain Valley Roof Installation
Fountain Valley Roof Replacement
Fountain Valley Roof Repair
Fountain Valley Roof Inspection
Fountain Valley Roofing
Fountain Valley Roof Replacement
We will answer your call 24 hours a day. Our distinguished team will complete your Fountain Valley roofing replacement with outstanding roofing work. Neglecting your roof can run you into costly damages in the near future, even if your roofing problem seems like small news. Contact us today with any roofing concerns about your next Fountain Valley roofing project.
Our experienced Fountain Valley roof replacement experts will offer you a thorough inspection of the true condition of your roof and what repairs or replacements are needed. We are well-known for our dedication to providing only the roof repair in Fountain Valley. If your roof has developed severe damage, you should get it replaced as soon as possible, the earlier the better. Shulman Roofing will create a roof replacment that you have always dreamed of.
See What Fountain Valley Homeowners Are Saying About Us
"Contacting Shulman Roofing was a pleasurable experience. The roof installation was completed on time and met all my expectations. The roofers were professional, and every person I spoke with was very courteous throughout the entire roofing process. I would recommend this Huntington Beach roofing contractor to anyone looking for roofing services." Read More

- Tom Butler, Fountain Valley, CA | Rated: 3 / 3
---
If you are looking for a professional Fountain Valley roofing contractor then please call (714) 799-7157 or complete our online request form.