Your Buena Park Roof Repair & Roofing Contractor To Get The Project Completed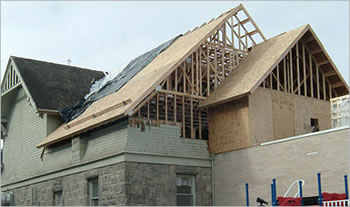 We provide TRUST and we understand the full importance of trust with our residential and commercial customers. Shulman Roofing Inc., specializes in roofing needs of homeowners and business property owners in Buena Park, CA. As a state licensed roofing contractor, we have experience working with a variety of roofing systems for projects such as re-roofs and roof repairs.
Shulman Roofing Inc. is proudly licensed by the Contractors State License Board, C-39 Roofing #870331. Our professionalism on the principles of honesty, integrity, quality workmanship are dedicated to high excellence and top standards in the roofing industry as evident on our AAA rating with the Better Business Bureau.
Shulman Roofing Inc. - Buena Park Roof Inspection
Need roofing services in Buena Park today? Shulman Roofing Inc. is the Buena Park roofer that homeowners and businesses in Buena Park choose for experienced, competent, reliable, and quality roof inspection results. We have over 25 years of experience serving as a professional Buena Park roof inspection contractor with a staff of highly trained employess in both residential and commercial roof installation, repairs, and maintenance.
Roof inspections and roof maintenance to new roof installation, roof replacement and re-roofs, our Buena Park roofers provide only the best. We also offer a wide range of roofing products such as metal roofing, tile roofing, cedar wood shakes, roofing shingles, slate roofing and other types of products.
Buena Park Roof Repairs
A Buena Park roof repairs performed on a regular basis will prevent leaks in your home or business. If you leave a roof leak not repaired for too long, and weather and age will cause more corrosive damage to your roof. When the damage is left untreated, a small repair may turn into a large repair or even a complete roof replacement.
The conclusion is to repair your roof and avoid further damage from occuring again in the future, so give us a call today to take care of all your issues! Shulman Roofing Inc. is Buena Park roof repair specialists for roof damage, tile leaking, shingle replacement, and roof replacement.
Buena Park Roofing Contractor
Buena Park Roofer
Buena Park Roof Repairs
Buena Park Roofing
Buena Park Metal Roofing
Buena Park Tile Roofing
Buena Park Roofing Shingles
Buena Park Roof Installation
Buena Park Roof Replacement
Buena Park Roof Repair
Buena Park Roof Inspection
Buena Park Roofing
Buena Park Roof Replacement
Do you plan to call a roofing contractor for a roof replacement in the Buena Park area? No worries, the professional Buena Park roof replacement contractors at Shulman Roofing, Inc. are here for you. Our Buena Park roof replacement contractors will offer high quality roof installation and roof repairs with high reliability and excellent customer service.
Shulman Roofing Inc. is your top source for roof replacement in Buena Park and the surrounding areas, as well as your top source for new roof installations. If you are deciding on what type of Buena Park roof replacement is right for you, our general contractors will help you make a decision on the superior quality job that is best for your property.
See What Buena Park Homeowners Are Saying About Us
"Contacting Shulman Roofing was a pleasurable experience. The roof installation was completed on time and met all my expectations. The roofers were professional, and every person I spoke with was very courteous throughout the entire roofing process. I would recommend this Huntington Beach roofing contractor to anyone looking for roofing services." Read More

- Tom Butler, Buena Park, CA | Rated: 3 / 3
---
If you are looking for a professional Buena Park roofing contractor then please call (714) 799-7157 or complete our online request form.